Corporate Services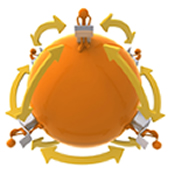 Since the day it was founded İlk Adim Insurance and Reassurance Brokering provides its customers continuous, breathtaking, careful and meticulous service. It follows the changing conditions in the world and in Turkey and makes a difference by designing customer and risk specific solutions and improves its service quality day by day.
While managing the risks of our customers and by considering insurance regulations and insurance law some special solutions to the risks and requirements of the customers are applied and thus the total risk cost is controlled easily.
Without discriminating any services we analyze the risks of our customers we make savings by avoiding unnecessary premiums and on the other hand we secure all insurable risks of our customers with our risk management.
One of the most important developments in the history of Turkish Commerce after 85 years break is the new regulations in the Turkish Commercial Law (TTK). This new regulation has opened a new era by redefining the risks of all corporate customers and the individuals who constitute the commercial body regardless of their business activity.
This new and challenging era will also affect the insurance sector directly. After the new regulations in Turkish Commercial Law (TTK), 51 clauses have been amended in insurance law and insurance regulations, 40 clauses of them are imperative provisions.
After these clauses are put into force, we have entered a new risky era where serious problems can arise. From the insurance policy, policy owner, insurer perspectives if the process is not managed well while meeting the liabilities then serious problems can arise.
To be able to manage the risks which differ according to the business activities of the customers, according to new legal regulations is a matter which requires expertise and experience in itself. 
With our experience and expertise in Turkish Insurance Regulations, Insurance and Reassurance regulations and Insurance Law, as it was till now and from now on we will provide our customers with continuity of their comfort and we will ensure that all our loyal customers and new customers joining to our portfolio feel themselves safe in this important process.